In the past year we have worked on some beautiful corporate offices. This headquarters in Dallas has a rich historical story. Art Dallas had the pleasure of printing and framing beautiful photographs as well as creating some beautiful original works of art! Art Dallas prides itself in the preservation of rich histories that have been the foundations of the corresponding companies. The past is always worth saving, and the added artistic touch our business can give to your memories will only make them that much more valuable. Whether your intent is edgy and sleek or refined and classic, Art Dallas can accommodate all tastes.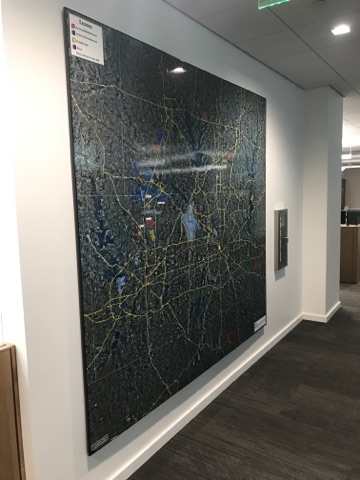 Custom Framing
Custom framing is a large part of our business; we've created beautiful work continuously under the same family ownership since 1988! We specialize in the individual framing project. Bringing canvas, paper, or objects in to be framed is a fun experience at Art Dallas. With over 5,000 frames to choose from we are sure to have your style!
Art Dallas can create a custom acrylic mount for your artwork in-house! Placing a piece of artwork between two custom-cut and smoothed pieces of acrylic is a fun framing option for a modern twist on displaying photography or fine art prints! Sandwiching the piece protects it from damage as opposed to a matted frame with no plexi barrier; it is an option for artwork of any size!
Print on Plexi
Art Dallas has worked with acrylics for the better part of 3 decades! Acrylics in an Art Dallas framers hand can be used in several beautiful ways. As a Framing option, acrylic makes a major statement while staying classic. Printing on acrylic creates a new way to view a fine art print; the colors come out incredibly vibrant and it makes a truly unique piece.
Print on Metal
The metal print is one of Art Dallas' premium products. To make this style, your artwork is printed in a process involving exact laser positioning and precise measurement. The process allows for the rendering of exact details and brilliant colors with excellent durability.The aluminum is 1 mm thick and has a special transparent coating, making it a straightforward and durable substrate for your work of art. Art Dallas metal prints are easy to handle in any size or format, and they are weatherproof and impervious to fluctuations in temperature.
Exceptional colors – highly recommended for colorful and high-contrast images
Reliable and durable – thermal sublimation and robust aluminum make a great combination
It is lightweight and robust – even in oversized formats
[1] 1 mm thick aluminum
[2] Silver from the back
IF YOU WOULD LIKE TO LEARN MORE
CALL 214 688 0244 EMAIL INFO@ARTDALLAS