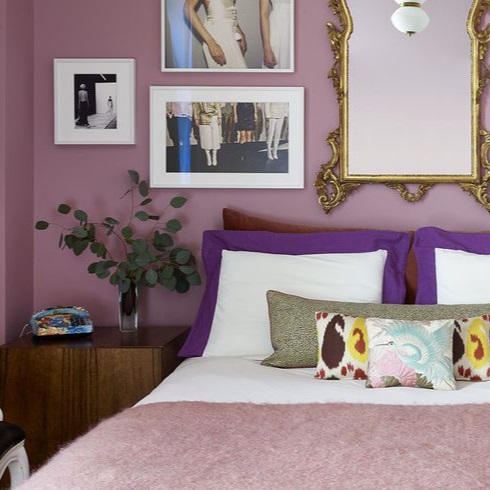 When it comes time to set the mood, a gloomy or uninspired bedroom will quickly ruin the vibe. With a few easy tweaks, your most personal space can also be a sexy reflection of who you are.
Finding a style that best fits your space is one of the Art Dallas Art Consulting teams favorite projects! Whether it's Valentine's Day with a lover or a random Tuesday night, these ideas will have you skipping the rose petals and chocolate by opting for something a little more permanent.
Antique Mirror
One wall in this lively space is covered in mirrors to reflect its chic atmosphere. Art over mirror or should we say Art over Art. This wall is one large multifaceted work of art! This eye catching installation is a simple solution to creating a focal point with artwork. Art Dallas art consultant's ability to transform hospitality, corporate, and healthcare interiors by layering color, shape and texture has earned the respect of elite clientele.
Antique mirror gives the perfect flashback to a modern space. Mixed patterns and materials give a layered depth to the senses. Allowing you to turn inward while still experiencing its fine art feel. Art Dallas produces handcrafted Antique Mirror that captures the feel of real antiques.
Grouped Collections
If your art collection doesn't thrill you as it once did, refresh your pieces without letting them go (and going through the trouble of selling them). Display them using all gold — or silver, pink, white, etc. — frames for an update that instantly changes the mood of the room. While there is nothing wrong with miss matched framing there is something to be said about creating bold symmetry by adding color and texture.
Art Dallas puts together collections of artwork that could make you swoon! AD creates packages with Artwork, Framing, Matting and Installation. Bring your works together and #makeitartful ! Don't underestimate the power of a good trim. Whether on the bed, throw pillows, or framed artwork, a border will instantly clean up any look.
Statement Works
Large art can be the defining element of a small space, tying together a color scheme and creating a single focal point that anchors the other items in the room. It can be anything: a painting, a map, found signage, or a rug hung on the wall.
In the Art Dallas gallery we explore artist collections and find the most beautiful works for your projects. We search through our favorite artists' collections to see what they are up to as well as blooming artists' new works. We find works that are on trend and classic.
Our mission is to encourage and promote creative artistic expression both locally and throughout the world. We utilize the finest materials and designs to manufacture custom artwork and accessories in collaboration with the finest contemporary artists. The Art Dallas Gallery has a large selection of original artwork featuring oil, acrylic, and mixed media on canvas. 'The Canvas Table' is our hot-spot for new works; it's always changing and we don't want you to miss out on all of the beautiful work!
Acrylics
Hanging fabrics gives a worldly charm. A beautiful tapestry can be the answer to your drapery downs! A framed tapestry will preserve the work and make it stand out.
Art Dallas can create a custom acrylic mount for your artwork in house! Placing a piece of artwork between two custom cut and smoothed pieces of acrylic is a fun framing option for a modern twist on displaying photography or fine art prints! Sandwiching the piece not only protects from damage that a matted frame with no plexi barrier would not provide it is an option for artwork of any size!
IF YOU WOULD LIKE TO LEARN MORE
CALL 214 688 0244 EMAIL INFO@ARTDALLAS